Dr. Douglas Harshberger, DDS - Independence Cosmetic Dentist
Dr. Douglas Harshberger is committed to providing excellence in dentistry and stands out as a leading dentist in Independence. The doctor uses the latest in dentistry techniques to provide you with a beautiful and healthy smile. Additionally, Dr. Douglas Harshberger believes strongly in education to prevent oral health problems before they occur, and makes sure to keep patients fully informed about their dental health. Read more about Independence dentist Dr. Douglas Harshberger below.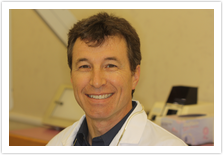 Douglas Harshberger, DDS
Dr. Harshberger grew up in St.Louis. He attended the University of Missouri Columbia where he attained a degree in Biology. He then moved to Kansas City to attend UMKC School of Dentistry and received his dental degree. He was a representative for the Student Dental Association. After attaining his dental degree, he was selected for admission for an advanced residency in Michael Reese Hospital in Chicago where he was one of the few dentists trained in Implantology in the 1980's. He then began his two year specialty training residency program in Prosthodontics, during which Dr. Harshberger discovered his passion for providing the kind of dentistry that changes lives. He went on to complete the Misch Dental Implant Institute training curriculum. He has served two terms for the Greater Kansas City Dental Society Board of Directors, has worked with Doctors with a Heart, MOMOM, and the Dental Lifeline Network. He loves creating natural looking smiles with dentures, partials, and dental implant teeth.
In his spare time, Dr enjoys riding his motorcycle with his wife, playing with his grandchildren, and serving at Abundant Life church.